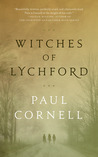 Witches of Lychford by Paul Cornell
My rating: 5 of 5 stars
Short but exceptionally good. Cornell has a wonderful way with language, even the crude kind. Wonderful use of the word Wankery.
The main characters in this are great and I really came to like the three of them.
A lot of development in such a short story is a credit to the author.
The story itself is very good and the couple of twists and flipping of convention make it a really interesting read.